Asterian Empire

| | |
| --- | --- |
| Type | Major Empire |
| Bonuses | Navigators (+1 jump range), Expert Miners (+25% mining speed) |
| Home Planet | Desert World |
| Tech Group | Asterian |
| Ships | Slow, well shielded ships |
| Economy | Specialized Economy |
| Illegal | Slaves |
Asterians are intelligent reptilian creatures from a desert planet. They build sturdy ships and use their own weapon and shield systems. Closed economic loop.
Behaviors
Resistant to bribes

Unique weapons and shields

Patrols protect foreigners

Asteroid Miners

Bounty Hunters
Unique Weapons
Shield Disruptor Beam: Shield depleting beam weapon.

Asterian Energy Bombs: Large gun firing explosive energy bullets.

Energy Wave Launcher: Capital ship weapon dealing massive shield damages.

Diamond Missile System: Missile system dealing energy damage.

Asterian Particle Cannon: Small and fast-paced particle cannon.
Unique Buildings
Mineral Gatherer: Improved mining facilities

Crystalline Plate Forge: Produce tough hull component.

Assembly: Improved ship part factory

Light Extractor: Improved energy production center.
Unique Colonies
Fleet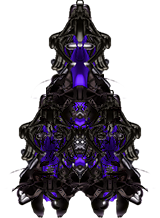 | | |
| --- | --- |
| Designation | Dreadnought |
| Max Speed | 325 m/s |
| Acceleration | 15 m/s |
| Turn Rate | 1,00 |
| Generator | 20 000kW (+2600/sec) |
| Weapons | 10 XL slots |
| Shields | 8 XL slots |
| Hull | 50 000 - Armored |
| Cargo Space | 750 |
| Carrier | 15 drone capacity |
| Jump Range | 4 |
| Costs | 190 Supply - 131 ship parts - 3274k credits |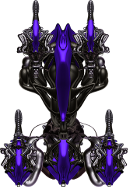 | | |
| --- | --- |
| Designation | Combat Capital |
| Max Speed | 360 m/s |
| Acceleration | 50 m/s |
| Turn Rate | 1,50 |
| Generator | 10 000kW (+700/sec) |
| Weapons | 8 XL slots |
| Shields | 5 XL slots |
| Hull | 40 000 - Armored |
| Cargo Space | 500 |
| Carrier | No |
| Jump Range | 4 |
| Costs | 111 Supply - 83 ship parts - 2068k credits |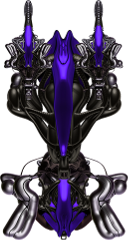 | | |
| --- | --- |
| Designation | Capital Carrier |
| Max Speed | 375 m/s |
| Acceleration | 50 m/s |
| Turn Rate | 1,50 |
| Generator | 11 000kW (+550/sec) |
| Weapons | 6 Large slots |
| Shields | 5 XL slots |
| Hull | 35 000 - Armored |
| Cargo Space | 800 |
| Carrier | 15 drone capacity |
| Jump Range | 4 |
| Costs | 97 Supply - 63 ship parts - 1587k credits |

| | |
| --- | --- |
| Designation | Dock Building Capital |
| Max Speed | 396 m/s |
| Acceleration | 40 m/s |
| Turn Rate | 1,80 |
| Generator | 3 500kW (+250/sec) |
| Weapons | 2 Large slots |
| Shields | 2 Large slots |
| Hull | 25 000 |
| Cargo Space | 8 000 |
| Carrier | No |
| Jump Range | 3 |
| Costs | 0 Supply - 62 ship parts - 1557k credits |

| | |
| --- | --- |
| Designation | Combat Cruiser |
| Max Speed | 530 m/s |
| Acceleration | 50 m/s |
| Turn Rate | 2,10 |
| Generator | 5 000kW (+400/sec) |
| Weapons | 4 Large slots |
| Shields | 4 Large slots |
| Hull | 15 000 - Armored |
| Cargo Space | 150 |
| Carrier | No |
| Jump Range | 4 |
| Costs | 40 Supply - 25 ship parts - 633k credits |

| | |
| --- | --- |
| Designation | Combat Frigate |
| Max Speed | 606 m/s |
| Acceleration | 80 m/s |
| Turn Rate | 5,00 |
| Generator | 3 000kW (+250/sec) |
| Weapons | 2 Medium slots |
| Shields | 3 Medium slots |
| Hull | 8 250 |
| Cargo Space | 160 |
| Carrier | No |
| Jump Range | 4 |
| Costs | 15 Supply - 9 ship parts - 228k credits |

| | |
| --- | --- |
| Designation | Cargo Frigate |
| Max Speed | 444 m/s |
| Acceleration | 25 m/s |
| Turn Rate | 2,00 |
| Generator | 1 400kW (+80/sec) |
| Weapons | 1 Small slots |
| Shields | 1 Medium slots |
| Hull | 3 440 |
| Cargo Space | 2 800 |
| Carrier | 1 drone capacity |
| Jump Range | 4 |
| Costs | 0 Supply - 5 ship parts - 115k credits |
ug/asterian_empire.txt · Last modified: 2016/04/28 20:01 by serialkicked
---