AI Core

| | |
| --- | --- |
| Type | Major Empire |
| Bonuses | Fast Shipyards (+25% shipyard speed) |
| Home Planet | Ice World |
| Tech Group | AI Core |
| Ships | All ships use energy beam weapons. |
| Economy | Closed. Free Buildings. |
| Illegal | None |
Not much is known about the AI Core or who may have built these machines. It is also impossible to communicate with them. Some studies suggest that they may be some kind of automated colonization or pacification fleet.
Behaviors
Unique Weapon
AI Core Beam Weapon: Long range energy beams.

AI Core Shields: Very low capacity, high damage absorption and charge rate.
Unique Buildings
Defense Platform: Small combat station mounted with a XL beam weapons.

Ship Factory: Produces core ship parts at a fast rate.

Ore Mines: Full automated mines.
Unique Colonies
Cluster | 250 Manpower | Income : No credits - 2 ship parts | Imports: N/A | Exports: N/A |

Data Center | 75 Manpower | Income : No credits - 1 ship part | Imports: N/A | Exports: N/A |

Node | 50 Manpower | Income : No credits - 1 ship part | Imports: N/A | Exports: N/A |
Fleet
| | |
| --- | --- |
| Designation | Dreadnought |
| Max Speed | Unknown |
| Acceleration | Unknown |
| Turn Rate | Unknown |
| Generator | Unknown |
| Weapons | Unknown |
| Shields | Unknown |
| Hull | Unknown |
| Cargo Space | Unknown |
| Carrier | Unknown |
| Jump Range | Unknown |
| Costs | Unknown |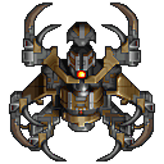 | | |
| --- | --- |
| Designation | Combat Capital |
| Max Speed | 400 m/s |
| Acceleration | 25 m/s |
| Turn Rate | 1,50 |
| Generator | 9 000kW (+700/sec) |
| Weapons | 6 XL slots |
| Shields | 6 XL slots |
| Hull | 40 000 |
| Cargo Space | 500 |
| Carrier | No |
| Jump Range | 4 |
| Costs | 84 Supply - 39 ship parts - 1577k credits |

| | |
| --- | --- |
| Designation | Capital Carrier |
| Max Speed | 340 m/s |
| Acceleration | 30 m/s |
| Turn Rate | 1,00 |
| Generator | 10 000kW (+500/sec) |
| Weapons | 4 XL slots |
| Shields | 6 XL slots |
| Hull | 35 000 |
| Cargo Space | 800 |
| Carrier | 25 drone capacity |
| Jump Range | 4 |
| Costs | 96 Supply - 42 ship parts - 1665k credits |

| | |
| --- | --- |
| Designation | Dock Building Capital |
| Max Speed | 275 m/s |
| Acceleration | 30 m/s |
| Turn Rate | 2,00 |
| Generator | 10 000kW (+300/sec) |
| Weapons | 4 XL slots |
| Shields | 4 XL slots |
| Hull | 22 000 - Armored |
| Cargo Space | 7 000 |
| Carrier | 10 drone capacity |
| Jump Range | 4 |
| Costs | 0 Supply - 59 ship parts - 2351k credits |
| | |
| --- | --- |
| Designation | Assault Cruiser |
| Max Speed | 540 m/s |
| Acceleration | 50 m/s |
| Turn Rate | 2,50 |
| Generator | 6 000kW (+450/sec) |
| Weapons | 5 Large slots |
| Shields | 4 Large slots |
| Hull | 8 500 |
| Cargo Space | 120 |
| Carrier | No |
| Jump Range | 5 |
| Costs | 28 Supply - 10 ship parts - 418k credits |

| | |
| --- | --- |
| Designation | Combat Frigate |
| Max Speed | 500 m/s |
| Acceleration | 45 m/s |
| Turn Rate | 3,50 |
| Generator | 2 500kW (+350/sec) |
| Weapons | 4 Medium slots |
| Shields | 2 Medium slots |
| Hull | 3 600 - Armored |
| Cargo Space | 100 |
| Carrier | No |
| Jump Range | 4 |
| Costs | 15 Supply - 6 ship parts - 220k credits |

| | |
| --- | --- |
| Designation | Cargo Corvette |
| Max Speed | 420 m/s |
| Acceleration | 40 m/s |
| Turn Rate | 2,50 |
| Generator | 1 000kW (+80/sec) |
| Weapons | 2 Small slots |
| Shields | 1 Small slots |
| Hull | 420 - Armored |
| Cargo Space | 700 |
| Carrier | No |
| Jump Range | 4 |
| Costs | 0 Supply - 1 ship parts - 44k credits |
ug/core.txt · Last modified: 2016/04/28 21:38 by serialkicked
---