Human Federation

| | |
| --- | --- |
| Type | Major Empire |
| Bonuses | Diplomat (bonus to relations), Colonial Power (+25% colony income) |
| Home Planet | Temperate World |
| Tech Group | Human |
| Ships | Slow, well shielded ships |
| Economy | Standard |
| Illegal | Small Arms, Slaves |
The Human Federation is the democratic government in charge of the human settlements since the collapse of the warp anomaly linking this galaxy to their home world, Earth. The humans favor trade over war and expand quickly.
Behaviors
Slightly Corrupt [bribes more effective]

Patrols protect foreigners

Asteroid Miners

Bounty Hunters

Spacefly Hunters
Unique Weapon
Unique Buildings
Ale Brewery: Luxury good production.

Alternative Medicine Center: Black market good production.
Unique Colonies
Human Capital | 100 Manpower | Income : 10k credits - 1 ship part | Imports: Chemical and Medicine | Exports: Steel, Electronics |

Casino World | No Manpower | Income : 75k credits | Imports: Drugs and Jewelry | Exports: chemicals | Oceanic Planets only |
Fleet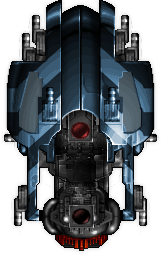 | | |
| --- | --- |
| Designation | Dreadnought |
| Max Speed | 330 m/s |
| Acceleration | 25 m/s |
| Turn Rate | 1,00 |
| Generator | 20 000kW (+2500/sec) |
| Weapons | 10 XL slots |
| Shields | 10 XL slots |
| Hull | 65 000 |
| Cargo Space | 800 |
| Carrier | 15 drone capacity |
| Jump Range | 4 |
| Costs | 175 Supply - 121 ship parts - 3025k credits |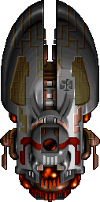 | | |
| --- | --- |
| Designation | Combat Capital |
| Max Speed | 365 m/s |
| Acceleration | 40 m/s |
| Turn Rate | 1,50 |
| Generator | 15 000kW (+700/sec) |
| Weapons | 6 XL slots |
| Shields | 6 XL slots |
| Hull | 30 000 |
| Cargo Space | 1 500 |
| Carrier | No |
| Jump Range | 4 |
| Costs | 76 Supply - 58 ship parts - 1444k credits |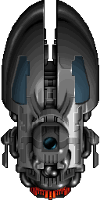 | | |
| --- | --- |
| Designation | Capital Carrier |
| Max Speed | 320 m/s |
| Acceleration | 30 m/s |
| Turn Rate | 1,00 |
| Generator | 10 000kW (+500/sec) |
| Weapons | 6 Large slots |
| Shields | 6 XL slots |
| Hull | 25 000 |
| Cargo Space | 800 |
| Carrier | 30 drone capacity |
| Jump Range | 4 |
| Costs | 79 Supply - 51 ship parts - 1285k credits |

| | |
| --- | --- |
| Designation | Dock Building Capital |
| Max Speed | 266 m/s |
| Acceleration | 30 m/s |
| Turn Rate | 2,00 |
| Generator | 10 000kW (+300/sec) |
| Weapons | 2 Large slots |
| Shields | 2 XL slots |
| Hull | 25 000 |
| Cargo Space | 50 000 |
| Carrier | 5 drone capacity |
| Jump Range | 4 |
| Costs | 0 Supply - 77 ship parts - 1921k credits |

| | |
| --- | --- |
| Designation | Combat Cruiser |
| Max Speed | 404 m/s |
| Acceleration | 35 m/s |
| Turn Rate | 3,00 |
| Generator | 5 000kW (+400/sec) |
| Weapons | 4 Large slots |
| Shields | 4 Large slots |
| Hull | 8 000 |
| Cargo Space | 450 |
| Carrier | No |
| Jump Range | 4 |
| Costs | 25 Supply - 15 ship parts - 379k credits |

| | |
| --- | --- |
| Designation | Combat Frigate |
| Max Speed | 557 m/s |
| Acceleration | 50 m/s |
| Turn Rate | 4,00 |
| Generator | 2 500kW (+200/sec) |
| Weapons | 4 Medium slots |
| Shields | 3 Medium slots |
| Hull | 1 500 |
| Cargo Space | 250 |
| Carrier | No |
| Jump Range | 4 |
| Costs | 8 Supply - 4 ship parts - 97k credits |

| | |
| --- | --- |
| Designation | Combat Corvette |
| Max Speed | 622 m/s |
| Acceleration | 40 m/s |
| Turn Rate | 5,00 |
| Generator | 1 650kW (+108/sec) |
| Weapons | 4 Small slots |
| Shields | 3 Small slots |
| Hull | 350 |
| Cargo Space | 80 |
| Carrier | No |
| Jump Range | 4 |
| Costs | 3 Supply - 2 ship parts - 52k credits |
ug/human_federation.txt · Last modified: 2016/04/28 12:36 by serialkicked
---