Nilith Republic

| | |
| --- | --- |
| Type | Major Empire |
| Bonuses | Diplomat, Builder |
| Home Planet | Oceanic World |
| Tech Group | Nilith |
| Ships | Fast and well-shielded but no jump-drive |
| Economy | Specialized Economy |
| Illegal | Slaves |
Niliths are aquatic beings with extremely long lifespans, which may be the reason why they aren't interested in jumpdrive technology.
Behaviors
Unique Weapons
Beam Weapons: Nilith beam weapons are relatively weak, but they use little power.

Void Cannon: Medium energy weapon used by frigates and cruisers.

Energy Wave Launcher: Capital ship weapon dealing massive shield damages.

Heavy Flak Array: Fast firing weaponry designed to destroy small and agile ships.

Missile System: Fast, long range, medium missile.

Heavy Plasma Launcher: Devastating capital class plasma launcher dealing massive damages.

Particle Cannons: High velocity particle cannons.
Unique Buildings
Coral Reef: Food production.

Aquarium : Produces luxury "Sea Food".

Vessel Weaver: Improved ship part factory

Light Extractor: Improved energy production center.

Variants of mines, solar plant and common factories
Unique Colonies
Fleet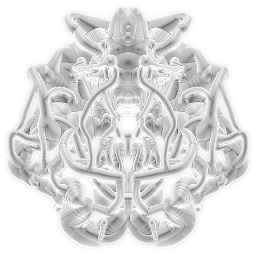 | | |
| --- | --- |
| Designation | Dreadnought |
| Max Speed | 350 m/s |
| Acceleration | 35 m/s |
| Turn Rate | 1,80 |
| Generator | 14 500kW (+950/sec) |
| Weapons | 8 XL slots |
| Shields | 10 XL slots |
| Hull | 25 000 |
| Cargo Space | 2 500 |
| Carrier | 4 drone capacity |
Jump Range | None ||
| | |
| --- | --- |
| Costs | 94 Supply - 76 ship parts - 1898k credits |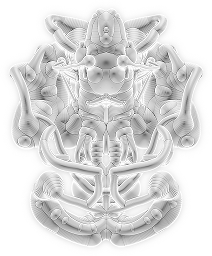 | | |
| --- | --- |
| Designation | Capital Carrier |
| Max Speed | 330 m/s |
| Acceleration | 30 m/s |
| Turn Rate | 1,50 |
| Generator | 12 000kW (+600/sec) |
| Weapons | 8 Large slots |
| Shields | 6 XL slots |
| Hull | 35 000 |
| Cargo Space | 950 |
| Carrier | 25 drone capacity |
| Jump Range | None |
| Costs | 90 Supply - 61 ship parts - 1516k credits |
| | |
| --- | --- |
| Designation | Dock Building Capital |
| Max Speed | 363 m/s |
| Acceleration | 30 m/s |
| Turn Rate | 2,00 |
| Generator | 10 000kW (+300/sec) |
| Weapons | 2 Large slots |
| Shields | 4 XL slots |
| Hull | 25 000 |
| Cargo Space | 50 000 |
| Carrier | 5 drone capacity |
| Jump Range | None |
| Costs | 0 Supply - 83 ship parts - 2087k credits |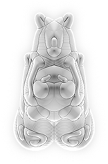 | | |
| --- | --- |
| Designation | Combat Cruiser |
| Max Speed | 570 m/s |
| Acceleration | 55 m/s |
| Turn Rate | 2,00 |
| Generator | 6 000kW (+450/sec) |
| Weapons | 4 Large slots |
| Shields | 5 Large slots |
| Hull | 7 500 |
| Cargo Space | 150 |
| Carrier | No |
| Jump Range | None |
| Costs | 27 Supply - 17 ship parts - 413k credits |

| | |
| --- | --- |
| Designation | Combat Frigate |
| Max Speed | 565 m/s |
| Acceleration | 60 m/s |
| Turn Rate | 4,00 |
| Generator | 3 200kW (+280/sec) |
| Weapons | 3 Medium slots |
| Shields | 4 Medium slots |
| Hull | 2 000 |
| Cargo Space | 350 |
| Carrier | No |
| Jump Range | None |
| Costs | 10 Supply - 4 ship parts - 112k credits |

| | |
| --- | --- |
| Designation | Cargo Cruiser |
| Max Speed | 570 m/s |
| Acceleration | 30 m/s |
| Turn Rate | 2,50 |
| Generator | 1 350kW (+90/sec) |
| Weapons | 1 Medium slots |
| Shields | 2 Medium slots |
| Hull | 450 |
| Cargo Space | 2 800 |
| Carrier | No |
| Jump Range | None |
| Costs | 0 Supply - 3 ship parts - 69k credits |

| | |
| --- | --- |
| Designation | Combat Corvette |
| Max Speed | 590 m/s |
| Acceleration | 50 m/s |
| Turn Rate | 4,00 |
| Generator | 2 500kW (+160/sec) |
| Weapons | 3 Medium slots |
| Shields | 3 Small slots |
| Hull | 1 500 |
| Cargo Space | 100 |
| Carrier | No |
| Jump Range | None |
| Costs | 6 Supply - 4 ship parts - 93k credits |
| | |
| --- | --- |
| Designation | Combat Drone |
| Max Speed | 598 m/s |
| Acceleration | 60 m/s |
| Turn Rate | 5,00 |
| Generator | 1 800kW (+130/sec) |
| Weapons | 3 Small slots |
| Shields | 2 Small slots |
| Hull | 520 |
| Cargo Space | 80 |
| Carrier | No |
| Jump Range | None |
| Costs | 0 Supply - 2 ship parts - 53k credits |
ug/nilith_republic.txt · Last modified: 2016/05/04 21:39 by serialkicked
---